PHAN is pleased to announce the release of our new report, Healthcare Access for People with Disabilities in Rural Pennsylvania.
The report is based on over 300 conversations with community members with disabilities, their family members and caregivers, and community based organizations held during 2019 and 2020.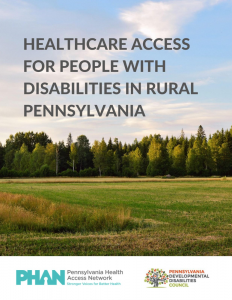 Many of those who contributed their stories to this report are now working with PHAN to improve access to healthcare locations, services, and equipment in rural PA. If you are interested in learning more about the Rural Healthcare Access Project, please contact Casey Pegg at [email protected] or 570-225-9300.
This publication is supported by a grant from the Pennsylvania Developmental Disabilities Council; in part by grant number 1901PASCDD-02, from the U.S. Administration for Community Living, Department of Health and Human Services, Washington, D.C. 20201. Grantees undertaking projects with government sponsorship are encouraged to express freely their findings and conclusions. Points of view or opinions do not, therefore, necessarily represent official ACL policy.