We're so happy to welcome our 2021 summer interns to PHAN!  We asked them to introduce themselves below:
Korie Eldemire: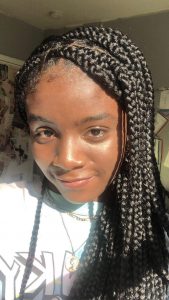 Hello! My name is Korie (she/her). I am a rising-junior attending Central High School. A couple of my favorite hobbies include watching scary movies, writing, making crafts, and hanging out with friends. As of now, I aspire to study medicine so that I may someday become a doctor. This has been a dream of mine for quite a while. I have always had an interest in anatomy and the thought of building knowledge in this field of study both intrigues and excites me. My ultimate goal in life is to find a career that I can imagine myself pursuing right up until retirement, and most importantly, a career that I enjoy.
Following this motto, I have been inspired to not only explore the medical field, but look into various career paths so that I may be able to discover my perfect fit for a job. Additionally, I have sought to gain a general sense of the numerous specialties in the field of medicine. For example, dermatology, pediatrics, anesthesiology, and many more. Learning the basics of the entire field will make the process of choosing a career significantly easier. Through this internship I will acquire knowledge regarding a topic that any doctor should understand to assist their patients in the most helpful way, which is health insurance.
Health insurance is something that greatly affects everyone, especially the families and individuals who are less fortunate. Having access to health care should be a right for everyone. Therefore, there are different sorts of health insurance programs that help each family gain that access according to their own personal needs and financial situations. Obtaining this basic information is the first step to securing my desired career. For this reason and more, I am thrilled to be engaging in this internship which will prepare me for my future.
Johanna Carrer:
My name is Johanna Carrer. I'm Puerto Rican and Dominican. I recently graduated from Kensington Health Sciences high school. This fall I will be starting my undergraduate education at Penn State. I will be studying Kinesiology in the pursuit of becoming a Physical Therapist. Some of my interests are cooking/baking, learning new languages, and learning about different cultures. One thing I'm proud of is being a founding member of a group called S.T.A.R (Students Together Activating Revolution). Our mission is "Armed with education and compassion, we are a group of students that aim to revolt against racism, systems of oppression and ignorance within our communities." With STAR, I reached out to my community to educate them regarding the current issues that our minority groups face. I'll be interning with PHAN for the summer and I look forward to developing professional skills. I am excited to take on the tasks and learn more regarding public health.